Organization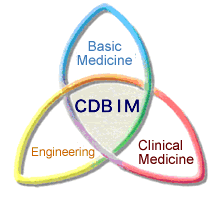 The Center for Disease Biology and Integrative Medicine (CDBIM) was established in April 2003. It has 5 Divisions and 3 Research Resources and Support Sections, with about 30 faculty members including professors, associate professors, and research associates, and additional technical staff.
CDBIM covers a broad range of research topics in the mechanisms, prevention, and treatment of various disorders.
CDBIM combines basic medical sciences, clinical medicine, and engineering, and aims to develop new integrated research fields in the 21st Century.